About the Artist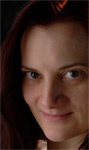 eXavier Peterson graduated with Honours in the Interdisciplinary program at the Ontario College of Art and Design in 1997 and returned to complete her BFA in 2005, earning a place on the Dean's List. Her limited edition original prints are in private collections in Australia, Canada, China, England, Germany, Japan, Portugal, South Africa, and the USA, and she has exhibited her work in Canada, Japan, and China.
Artist Statement
Relief printing is a favourite medium since each time my drawings turn into an image entirely its own. I try to capture the individuality of each animal I portray. As we view them, they view us.
I choose to print with black ink as it highlights the graphic lines I achieve when carving the image from sketch on the block.
My miniatures are pieces of whimsy I create from ideas, from everyday objects, turns of phrase, and from looking out my window. I paint on handmade Japanese paper for background, build wooden furniture and other structures, and hand sew the creatures that inhabit there. Welcome to my wee worlds.